Refer a Friend and Get Rewarded!
December 21st, 2022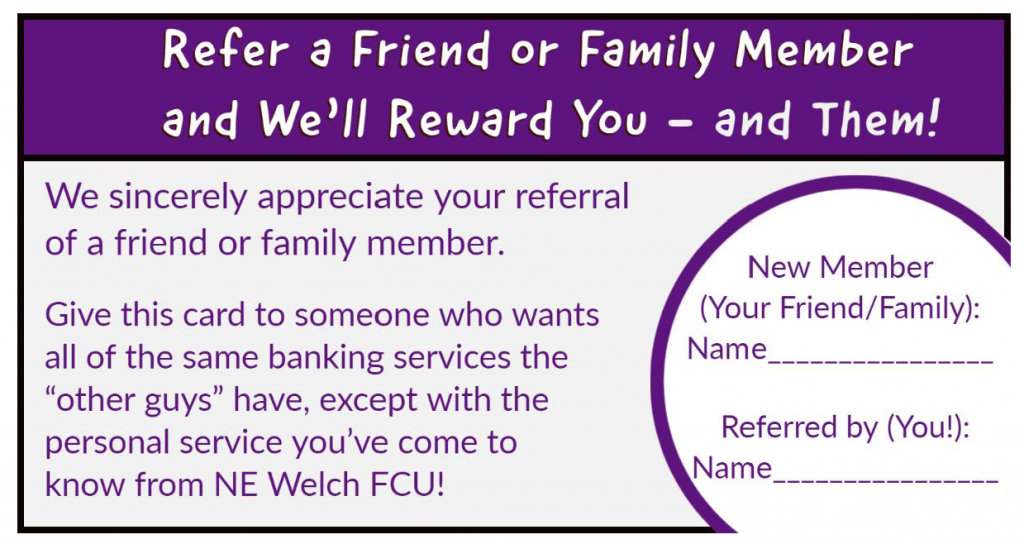 Print the card above and tell your friends and family about North East Welch FCU – You could earn $25 for EACH New Member! Don't have a way to print it? No problem! Just make sure to tell everyone you refer to mention your name when they join NEWFCU!
The new member will earn up to $10 and could qualify for a $15 bonus if they open a checking account, enroll in eStatements, and start direct deposit within 30 days of joining!
There are no limits to the number of referrals you can make!
*Rewards will only be given to current NE Welch FCU Members in good standing, age 18 or older, after the new account is opened. There is no limit to the amount of rewards each member can earn. The credit union will match UP to $10.00 of the new member's first deposit. If an account is closed within one (1) year of opening, the new member will forfeit their rewards. Matching amount will be held for 12 months, $15 bonus is not held and will be made available immediately if earned. NEWFCU employees and volunteers and immediate family are not eligible to participate in this promotion.